Outlook Addins


Exchange Addins

Exchange Central Outlook Group Calendar

Exchange Central is a planning tool for Outlook users, who want to control and manage many Outlook calendars.
Exchange Central also improves the collaboration and the communication level between employees and the different departments in your organization. If you miss the consolidated overview of Outlook calendars, then Exchange Central is the tool you're looking for.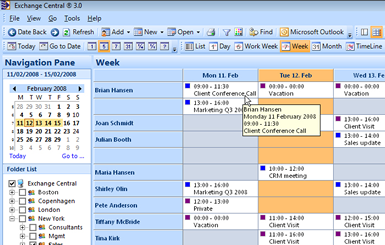 Exchange Central's group calendar functionality includes...
Easy access to group/team functionality for Outlook calendars and resources.
The many "group views" provide you with easy yet advanced access to the individual Outlook calendars.
Divide the Outlook calendars into groups by location and/or departments or even into temporary groups – your imagination is the only limitation. Use some of the predefined Exchange distribution lists or create you own…
Get an automatically update for your "Real-Time" calendar information (not Free/Busy - as in Outlook) – just combine Exchange Central with our server based RealTime Service agent