Outlook Addins


Exchange Addins

Outlook Calendar Appointments Mover

Do you use Outlook Calendars? Have you noticed the effect of incorrect time zone settings on your appointment times? Do you move from one time zone to another on a regular basis? Do you have issues with daylight saving time settings moving your appointments incorrectly? If so, you need Planet Software's Outlook Calendar Move Appointments application.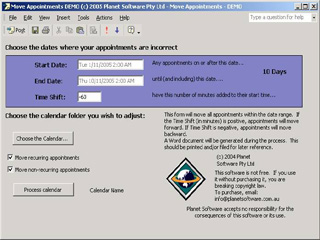 This is an Outlook form that will allow you to move appointments over any date range forward or backward "x" minutes. It handles recurring appointments (including those that partially overlap the date range you specify), all day appointments and even generates a Word document showing exactly what appointments were fixed. The form is simple to deploy - just include it as an attachment to an email message and send it to your users that need it... or associate it with a public folder and direct users to it.
Microsoft's suggestion to this problem has been to export the calendar, change time zones, then import the data. This is time consuming and subject to problems.