Outlook Addins


Exchange Addins

Active Agent Outlook

Leverage existing knowledge of standard applications and make them more real estate specific and easier to use.
Our approach to creating contact management solutions is to leverage what is already being used by agents and to provide the industry specific features that Active Agents like yourself need to become more efficient and productive. Our goal is for you have a single contact database that integrates with the most popular desktop productivity suite, Microsoft Office; and not to require you to learn yet another word processor, email application, etc.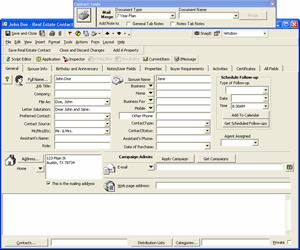 Merge Letters Directly using the "Quick Merge Toolbar"
Schedule a follow-up for this client, and find all schedule follow-ups with a single mouse click. You can define the types of follow-up appointments that are selectable.
Apply a campaign directly from the contact form, as well as, manage all applied campaigns for this contact with a click of your mouse.
One click distribution list management - Add the contact to a distribution list or remove them from distributions lists right from the contact.
Capture the full spouse information, not just their name.
Store the entire family's birthdays and have the option to add them to your calendar as recurring annual appointments.
Unlimited time and date stamped notes.
And more...