Outlook Addins


Exchange Addins

Contact Clinic for Microsoft Outlook

Contacts Clinic is a complete Contacts Management Software for Microsoft Outlook Client. This innovative Outlook plugin has a wide array of features that allow Microsoft Outlook users to Automatically Update, Organize and Maintain their Outlook Contacts.
The Hands Free Outlook address book updater saves users a great deal of time and manual effort. The Contacts Clinic Microsoft Outlook addons include 1) Automatic Outlook Contacts Updater 2) Extract Email IDs from Incoming message 3) Import Mass Email IDs from a file 4) Remove Duplicate Contacts 5) Remove Bounced Email ids from Outlook Contacts 6) Backup Contacts.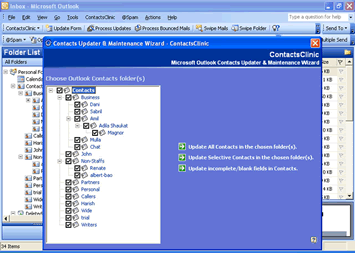 The Contacts Clinic Internet Explorer plugin extracts email addresses from the web pages, and add to Outlook Contacts.