TeamScope Outlook Contact Management

The contact management solution with True Outlook Integration. Looking for a contact and customer management product that fits your budget and works entirely within Microsoft Outlook without the headaches of an external database? Then you've come to the right place!
Finally, you can quickly process e-mails, look up customer data, log phone calls and manage opportunities, while sharing this information with your entire team -- all from within Outlook, and at a cost that won't break the bank.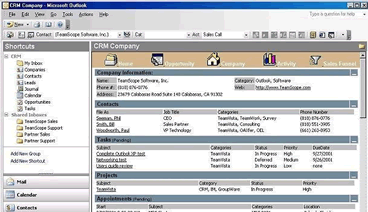 Latest release: TeamScope CRM™ 5.0 TeamScope CRM™ for Outlook® 5.0 with True Outlook Integration™ delivers many exciting new features to increase your productivity, so you don't have to change how you work to get your work done!