Outlook Addins


Exchange Addins

Prophet CRM for Outlook

he entire Prophet system is based on Microsoft Outlook. You will find that Prophet Outlook CRM is easy to implement into whatever system your company may already have. Prophet is also cost effective and is Outlook CRM that will increase the profit your company makes. You can use Prophet Outlook CRM to help you organize your contact information and sales leads.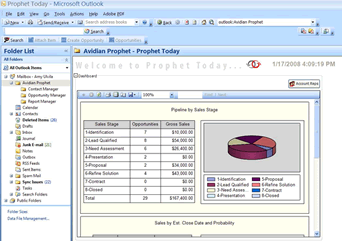 Prophet 5 provides the features you need in Outlook CRM:
An introduction to Outlook CRM.
Customer relationships are important to your company's success.
Outlook CRM is a great organization tool for your company.
Reorganizing work processes and implementing new technology can be helpful to your company.
Finding the Outlook CRM that best meets the needs of your company.
Prophet is an excellent choice in Outlook CRM.
Purchase Prophet Outlook CRM to enable your company to see great success.