Outlook Addins


Exchange Addins

Intellipad Law Firm CRM for Outlook

Outlook remains the standard for Law Firms and Professional Service organizations. IntelliPad CRM gives new depth to your firm´s relationship intelligence and social networking within the familiar Outlook user experience.
IntelliPad keeps contact information current and accurate across Outlook users and a SQL Server database. IntelliPad also provides mailing list and marketing event management. To assure clean and consistent contact information, an efficient data steward process is included.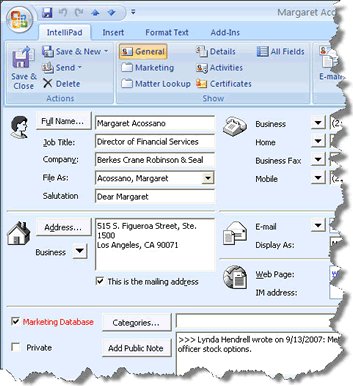 No IntelliPad software needs to be installed on the desktop or on any Exchange Server. IntelliPad is implemented with an Outlook custom contact form and as an internal Web application. The SQL Server contact database provides easy integration with existing Portals and other applications. IntelliPad can be installed for single, multiple, and clustered Exchange servers.