MX-Contact CRM for Microsoft Outlook

MX-Contact is a CRM, Contact Management and Sales Force Automation package that runs inside Microsoft Outlook 2002, 2003 and 2007. The system utilizes all the standard functionality of Outlook but provides many additional features that transform Outlook into a powerful CRM system.
MX-Contact has 6 different Editions available catering for a single user through to an enterprise with thousands of users, with data storage in an Outlook Data File, Exchange Server Public Folders, or Microsoft SQL Server. (Click here to learn which one is right for you). MX-Contact leverages your investment in existing Microsoft technology by avoiding expenditure on additional infrastructure and costly training programs.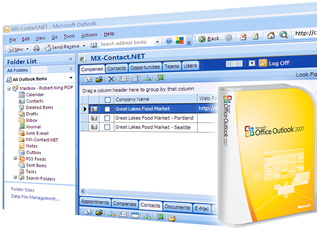 MX-Contact comprises a Base System, which offers Contact Management functionality, with optional Sales, Marketing and Support Modules that can be added at any time, that extend MX-Contact into a fully-comprehensive CRM system that can be utilized across all departments in the company.