Salesboom: Microsoft Outlook CRM Solutions

Outlook CRM software allows you to keep existing email management software by using its Outlook CRM integration tool allowing your CRM software to work with Outlook anywhere it is installed, your laptop, home PC or computer in the office.
Salesboom's Outlook CRM integration tool is the most functional on the market, integrating not only email management with Web based Contact and Lead Management features, but also fully integrating the CRM Outlook software into Salesboom's Case & Solution Knowledge Management Database software. Salesboom Outlook CRM software gives users the flexibility to continue using existing email management software like Microsoft Outlook as an alternative to the fully functional Salesboom web mail system.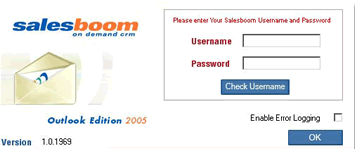 Other CRM vendors claim to have Microsoft CRM integration and synch your Microsoft outlook folder management, however, with Salesboom.com you benefit from not only a CRM calendar synchronized with Outlook but our ability to include all notes attached to contacts within the Microsoft Outlook software.
With our sales CRM in Outlook Salesboom makes it easy for your business to simultaneously use Microsoft Outlook and web access all emails, contacts, accounts, opportunities, cases and solutions. You also have the option to customize Outlook web access email folders that are managed within the Salesboom system. Salesboom's Microsoft Outlook CRM integration software provides a more functional CRM.