TeamScope CRM for Outlook

Looking for a CRM product that fits your budget and works entirely within Microsoft Outlook without the headaches of an external database? Then you've come to the right place!
Finally, you can quickly process e-mails, look up customer data, log phone calls and manage opportunities, while sharing this information with your entire team -- all from within Outlook, and at a cost that won't break the bank.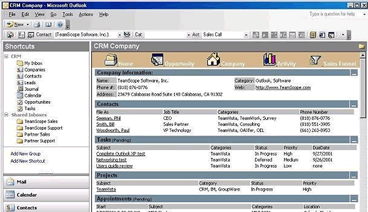 With TeamScope CRM™ for Outlook®, you never have to leave Outlook. This means no synchronization process, no external database headaches, and no problems when working offline. Every contact you make, every activity you perform, every task you assign is automatically available in Outlook. This is because TeamScope CRM™ for Outlook® works fully within Outlook, storing all customer information in the Outlook Contact, Task, Appointment and Journal entries you use every day.