Outlook Addins


Exchange Addins

TrackerOffice: Leverage Microsoft Outlook for CRM

The advantages of Outlook CRM
By leveraging the Microsoft Outlook / Exchange platform your organization has already invested in, TrackerOffice offers a comprehensive CRM solution at a much lower total cost of ownership than competing, stand alone applications.
While other applications exist which offer CRM through Outlook, TrackerOffice integrates its CRM functions with tools for project management, invoicing and business intelligence reporting, transforming your Microsoft Outlook / Exchange platform into an enterprise class business solution.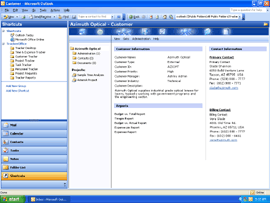 TrackerOffice CRM features:
Easy access to customer data with detailed on-line customer folders for improved customer service and sales efforts.
Manage customer activities: phone calls, emails, meetings.
Track billing arrangements and contracts.
Manage customer service issues.
Forecast future sales.
Generate proposals.