vtiger CRM with Outlook Integration

vtiger CRM is a Open Source CRM software application ideal for small and medium businesses, with low-cost product support available to production users that need reliable support.
vtiger CRM is a widely used product with thousands of users in dozens of countries. It has a vibrant community of users driving the product forward, and contributing to it's development. Over a million copies of vtiger CRM have been downloaded by our users.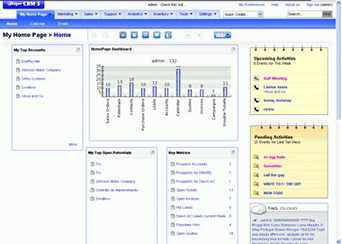 vtiger CRM provides many extensibility and customization features to enable your CRM solution to meet the needs of your business. In cases where you need new functionality to be added, the vtiger team provides customization services to meet the need.
vtiger CRM software installation is very straightforward as all the necessary software is integrated, and a single executable file is made available both for Windows and Linux (RedHat, Debian, SuSe, Fedora, and Mandrake) operating systems. The setup of database, Web server, and other software that your require for vtiger CRM is automatically handled by the installer.