Zoho CRM with Outlook Plugin

Zoho CRM empowers the sales force, executives, and management with sophisticated sales force automation functions such as, lead generation & qualification, sales pipeline analysis, sales stage & probability analysis, competitor analysis, real-time sales forecasting, sales quota management, sales reports & dashboards and other useful metrics. These functions give a business an opportunity to completely focus on customer life-cycle (lead generation - acquisition - conversion - retention - loyalty) rather than sales process, thus increasing sales revenue.
Zoho CRM has sales force automation modules such as, leads, potentials, accounts, contacts, and sales-forecasting. You can accurately track all business opportunities and close more deals in less time. Additionally, you can identify bottlenecks in the sales process in advance, thereby effectively utilize existing customer data for future cross-selling and up-selling opportunities.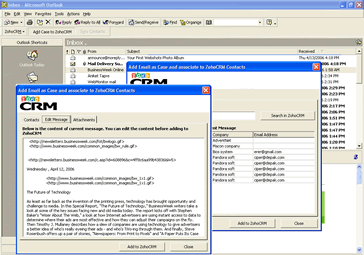 The Zoho CRM Outlook Plug-in is a productivity enhancement tool that empowers Microsoft Outlook(R) CRM users to synchronize their customer-related contacts, calendar, tasks and emails with Zoho CRM. In addition, you can add customer-related Inbound and Outbound Outlook mails to Zoho CRM service as a Case or associate to the CRM Contacts.
Key Features of Zoho CRM Outlook Plugin
Synchronize contacts, calendar and tasks between Microsoft Outlook and Zoho CRM
Add Outlook inbound and outbound emails as Cases to Zoho CRM - contacts
Associate Outlook inbound and outbound emails with Leads or Contacts in Zoho CRM
Modify email message and file attachments to the Lead or Contact in Zoho CRM without modifying the original message in Microsoft Outlook
Resolve conflicts while synchronizing contacts, calendar and tasks with Zoho CRM so that there will not be any mismatch of the customer data