Calendae allows you to manage your calendar, contacts, tasks, and documents anywhere at any time. Calendae's fast, intuitive, and powerful interface increases your group work efficiency. Features include simultaneous and intuitive management of your work group, hiding your personal events and contacts from the rest of the group, 4 levels of access to data, saving all your data, synchronizing your data with your PDA, and receiving appointment reminders by e-mail.
Calendae offers to share Outlook calendar : access your Outlook calendar and the Outlook calendars of your team, friends, .... , wherever you are. You just need an Internet connection to access them.
You can give access to share Outlook calendar, in reading access or full access.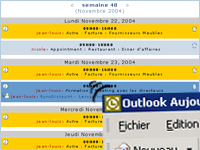 Synchronize with Outlook for sharing Outlook calendars
Synchronize your data between your Calendae calendar and your Outlook calendar.
Put the data from your Outlook on-line: you can access the Outlook calendar by Internet and WAP, share them with other people and also back them up
Calendae synchronization uses the standard HTTP (or HTTPS) Internet connection protocol on port 80 (or 443). Every Internet access, even behind a Proxy/Firewall security system, should run