Outlook Addins


Exchange Addins


The availability of desktop calendars like Microsoft Outlook Calendar and iCal and free online calendars like Google Calendar have certainly made managing schedules quick and easy. However when it comes to sharing and syncing calendars, there are still not many good solutions available which are free and convenient to work with. It's not an easy task to share your calendars with friends, especially if you have a lot of them and they use different types of calendar applications.
Calgoo, a suite of calendar apps which offers an excellent free solution to syncing and sharing calendars across different platforms. Apart from offering its own calendar software, it offers Calgoo Connect and Calgoo Hub which are meant for syncing and sharing calendars respectively.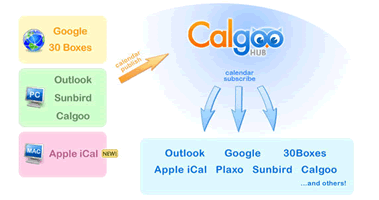 Use Calgoo Hub calendar sharing to...
Share calendars with family, friends & work
Avoid embarrassing schedule conflicts
Keep using your own calendar program
Share between Outlook, iCal, Google & more!