GroupOutlook from Amarillo Software allows you to easily and affordably share Outlook calendars, contacts, e-mail, tasks, journals and notes without Exchange Server.
GroupOutlook works with a mixed environment of Outlook clients.
Public Folders allow you to share Outlook contacts (for centralized address book), e-mails and manage resource calendars (such as meeting rooms). GroupCalendar views allow you to see the calendars of whomever you choose, side by side.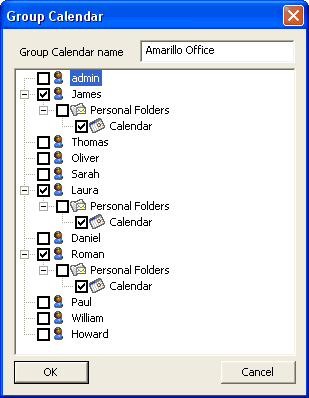 All you need to get up and running is one machine running IIS and then you are ready to install your clients. IIS is available free of charge with Windows 2000, Windows XP Pro and Windows 2000 Server and Windows 2003 server. Then you can synchronize wherever you are in the world. Sharing Outlook data could not be easier.
GroupOutlook allows the sharing of Outlook:
Email
Calendar
Tasks
Contacts
Notes
Journals
Public Folders (mail, contacts, calendars, tasks, etc.
Group Calendar View (unlimited number)