Outlook Addins


Exchange Addins


Do you need to share your Microsoft Outlook calendar with your company, but don't have the budget to invest in an Exchange Server? Built into HyperOffice at no extra cost HyperShare for Outlook will let you keep using Outlook - and share Outlook calendars, Outlook contacts, documents, tasks and more with colleagues, partners and customers. Outlook calendar sharing is beneficial to any company with two or more people who need to effectively manage their time.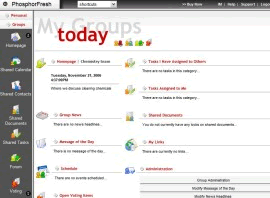 Share Outlook calendar information with your colleagues anytime-anywhere with just an Internet connection.
Create Outlook Group Calendar Views. Setup unlimited group calendar views for effective group scheduling.
Easy-to-use Online Calendar. Add events to your calendar with just a few clicks, then specify the subject, location, date, time, and description.
Microsoft Exchange Server Alternative. Access email, share contact, calendar, documents, and task information without an Exchange server. There's no software to install, no servers to maintain...ever!