ShareO: Sharing Outlook Calendar, Contacts, Email Folder

ShareO enables you to share and synchronize Microsoft Outlook Personal Folders with other ShareO | Outlook. The sharing of the folders is done via email message and attachment that is sent to the user, and then automatically imported by his/her local installation of ShareO.
This system is suitable for sharing email folders, even if the users are not connected to a local network. You can create shared workspaces including Inbox, Sent Items, calendars, contacts, journal, e-mail, tasks, notes, and share any other folder. You can assign shared users on a per-folder level, and easily add new users from your contacts.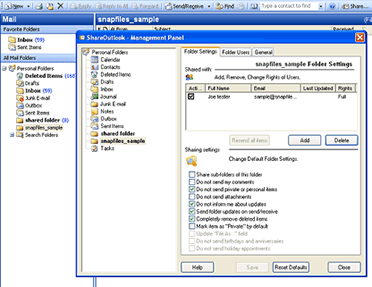 Version 3.0 adds new Sharing Wizard, Exchange Folders support, updated Management Panel and Options interfaces.