SYNCING.NET for Outlook

SYNCING.NET redefines the way consumers and businesses access, share and protect their documents, photos, videos, music and all their Outlook data. SYNCING.NET offers users complete freedom when dealing with their digital content, by allowing them to sync, share, and access it seamlessly.
Based on a secure peer-to-peer technology, SYNCING.NET creates private data networks that make it easy to stay connected and always in sync with colleagues, friends, and computers - anytime and anywhere, at home, in the office and on the road.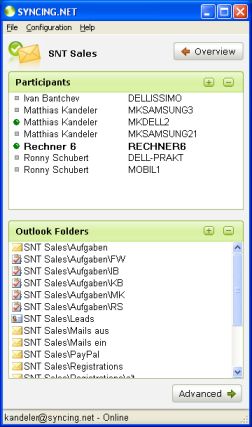 Safe and self-organizing data networks can be set up intuitively worldwide within minutes without IT know-how and without costly server systems. All your sensitive data remain on your devices - not on external servers. All computers are directly connected. There are no additional costs for hardware, software, or administration.
All data is transmitted directly between computers via local network or the Internet in a peer-to-peer fashion. All that is required is an Internet connection. No VPN, router or proxy configuration is needed. It works even if two computers cannot directly connect because they are behind a NAT or a firewall. Synchronization with SYNCING.NET works completely automatic. You can use Outlook as usual. Any changes will be transferred immediately to all connected computers.