Outlook Addins


Exchange Addins

Kaspersky Antispam for MS Exchange Server

Kaspersky® Security for Microsoft Exchange Server 2003 protects users of corporate mail systems against viruses and spam, and can be centrally administered. It provides antivirus scanning of incoming and outgoing messages and mail stored on the server, as well as messages in shared folders. It also helps mail system users to block unwanted mail using intelligent spam recognition technologies in addition to technologies provided by Microsoft.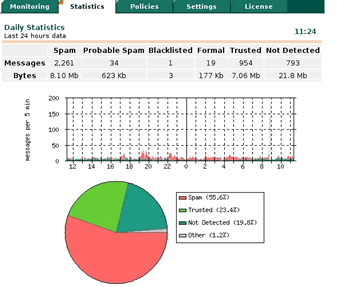 Antispam Features for MS Exchange Server:
Intelligent spam recognition technologies. The antispam application scans all messages arriving on the Exchange Server for spam attributes, filtering formal attributes of messages (email and IP addresses, size, headings) and analyzing the content of messages and attachments using a range of advanced technologies, such as graphic spam filtration using signatures.
Message classification. System administrators can set individual rules for each category of unwanted correspondence to prevent important information from being lost. True spam messages can be blocked, suspicious letters can be sent to the "Junk" folder, and any formal messages (for example, confirmation of delivery and receipt of messages) can be allowed through to inboxes.
Blocks mass mailings. The spam blocking program prevents any unsanctioned use of the mail server, tracking and blocking any attempts at sending mass mailings to computers on the network.