MessageLabs Managed Email Anti-Spam Filter Service for Exchange Server

MessageLabs industry leading Email Anti-Spam filter service provides your business corporate or enterprise organization with a proven spam filtering solution. Our multi-layered, internet-level email spam filter service blocks 99.4% spam.
Our managed anti-spam filter service supports all email messaging platforms including Exchange, Groupwise, Domino Lotus and Linux.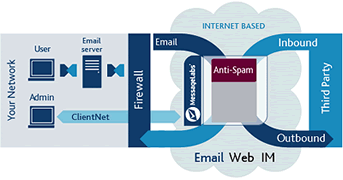 Our managed email spam filter service has a service level for 99% capture rate of all spam without affecting the flow of legitimate email. It's a managed spam filter service, so no upfront costs and easy setup, your email spam filter service can be deployed in minutes and is easily configurable to ensure corporate or enterprise policies are enforced.
Since the filtering is fully managed it is compatible with any SMTP compliant email server. Providing the perfect spam filtering solution for all size business, corporate and enterprise organizations. Email server support includes:
Spam filtering for Microsoft Exchange Server (Outlook)
Spam filtering for Domino-Lotus Notes
Spam filtering for Groupwise
Spam filtering for Linux