Policy Patrol Anti spam for Exchange

No anti-spam vendor claims 100% accurate spam filtering – which is precisely why Policy Patrol Spam Filter includes an email quarantine report that allows users to quickly scan through the list of newly quarantined spam messages in Outlook and deliver emails and white list addresses.
Instead of just placing all spam in the junk mail folder that users forget to check, the user is now reminded to scan a list of quarantined emails, which enables them to detect any incorrectly quarantined messages. With the Known Spam/Suspected Spam classification, the user does not waste time on known spam, but only scans over the suspected spam messages.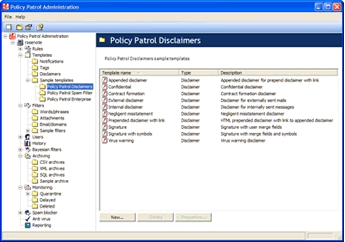 Policy Patrol Spam Filter ships with a default anti-spam configuration that will start blocking spam within seconds after installation. You will easily configure your system at the Administrator level for immediate results.
Policy Patrol Spam Filter allows you to offload work from Administrators by leveraging users to manage their own spam reduction in a high benefit-to-cost manner. This adds spam "eye-witness" efficiencies to organization-wide efforts and allows Administrators to use the advanced options to optimize results.
Why download messages that are sure to be spam? Policy Patrol can reject messages from senders on DNS black lists and messages without valid recipients before they are downloaded. Most other anti-spam solutions first download the entire message and then delete it. With Policy Patrol Spam Filter you can save bandwidth and processing times by simply rejecting the messages before they are even downloaded.