Outlook Addins


Exchange Addins

SecureTide Microsoft Exchange Spam Filter

AppRiver's SecureTide™ is one the easiest to implement, least expensive, configurable and accurate Spam Filtering / Virus Protection Services for Microsoft Exchange.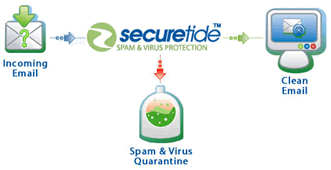 Spam Filtering and Virus Protection Features:
Configurable options for processing the spam such as appending the subject line of the email with an indication that the message failed a particular spam test, rerouting to different email address, modification to the header of the email, a header or footer message placed inside the email or simply quarantining the offending emails all together so they never reach your users.
Web based interface for managing domain configurations and quarantine.
Up to the minute virus updates to protect your users and your servers from email viruses (included free).
Mail Server Uptime Monitoring - AppRiver will monitor the uptime of your Exchange Server. If an outage occurs we will queue your messages until your server is back online. We can also notify an Administrator of the outage via an alternate email address, pager or cell phone.
Scalable to hundreds of thousands of users.