Outlook Addins


Exchange Addins

SpamChoke Anti-Spam Solution for Exchange

SpamChoke is a simple, install-and-forget solution to the insurmountable problems caused by spam emails. SpamChoke stops spam emails automatically on the Exchange server.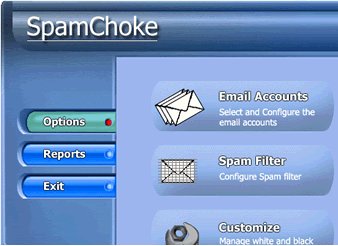 Anti-Spam Features:
SpamChoke detects all the accounts on the Exchange server. The spam filtering can be enabled for all or selected Mailboxes. SpamChoke starts spam filtering immediately. SpamChoke eliminates the need for setting up the filtering rules based on sender name, subject etc. SpamChoke works on the server without causing any interference to the user.
SpamChoke uses intelligent analysis to differentiate spam and clean emails. Spam mails can be configured to filter or delete before it reaches the intended Mailbox. Sensitivity of the spam filter can be set by the Administrator to achieve close to 100% spam filtering.
You can setup separate White List and Black List to customize SpamChoke for your environment.
SpamChoke maintains a log of spam filtering activities. It is useful to analyze the spam traffic and also to increase spam filtering sensitivity of SpamChoke.
SpamChoke for Exchange works on Exchange 2000 and Exchange 2003.