GFI MailArchiver for Exchange

Email is critical to your small to medium sized business' communication, but it brings with it a host of new problems; dealing with storage limits, periodic backups, problematic PST files, access to old emails and regulatory compliance or eDiscovery requests just to name a few. Failure to address these problems effectively can bring serious repercussion.
GFI MailArchiver is the single solution source for your email archiving, email management problems on Exchange Server. With over 10,000 customers, we are the #1 email archiving software for small to medium sized businesses. GFI MailArchiver is used by administrators all over the world, to maintain an archive of all corporate email correspondence, significantly reduce the demands on the Exchange server, manage and reduce the company's dependency on PST files and also meet a growing number of regulations on compliance, eDiscovery and other legislation. Our product is easy to install, requires very little administrative effort, and ships at the lowest price on the market!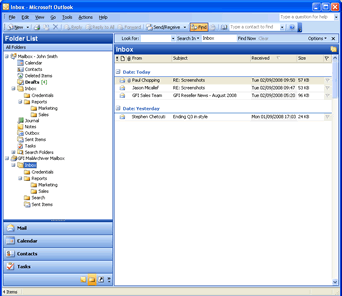 With GFI MailArchiver your email worries are over. All email is stored in a central location, easily accessible in two ways: through a folder in your user's Outlook email client; or by using a web browser. We integrate closely with Outook in a first-in-its-class manner, avoiding the use of stub files which other products use.