SonaSafe Email Archiving for Exchange Server

Every organization, big or small, private or public is impacted by litigation during their lifetime. Many organizations are mandated to keep the emails for a certain period time and may be asked to provide email related information during a litigation. Companies are scrambling to implement archiving solutions to avoid litigation and also to manage the growth of their Exchange servers. A good email archiving system should ensure that companies have ready access to email record, whenever it is required. Also, the application should be able to manage exponential increase in the size of Exchange servers.
Sonasoft's SonaSafe solution for email archiving is designed to meet regulatory compliance needs of organizations. SonaSafe will capture all incoming, outgoing and internal emails and store them in archive databases as a Single Instance Store (SIS). Also, by use of "stubbing", message contents including attachments will be saved in the archive database and leave behind an empty shell of the message, namely "stub" in the body of the email. This approach will reduce the size of the Exchange server by up to 90%. SonaSafe Email Archiving solution supports Exchange Server 2000, 2003 and 2007.
SonaSafe solution employs reliable safeguards including encryption to ensure that the email is tamper-proof and cannot be altered. The solution gives the ability to migrate all existing PST file data into the archive repository. This will enable organizations to eliminate PST files proliferation across the enterprise, thus resulting in better email management.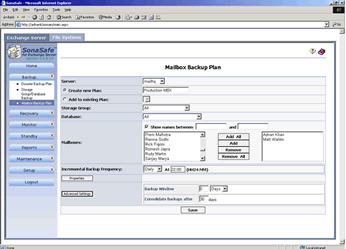 Key benefits of SonaSafe Exchange Email Archiving:
Ability to capture all email messages including incoming, outgoing and internal emails
Find and retrieve email related information within seconds through sophisticated search technology
Produce reliable information for legal discovery and investigations very quickly
Reduce the amount of physical disk space required through Single Instance Store (SIS) capability
Meet compliance requirements like Sarbanes-Oxley, HIPAA and many others
Manage email life cycle from composition to deletion through proper policies
Reduce email storage and management costs
Ability to archive mailboxes from multiple domains into a single archival system
Formulate and enforce corporate email and security policies
Ability for end users to search and retrieve their own emails
Ability to manage PST files effectively
Reliable data protection through tamper-proof mechanism and encryption
Excellent reporting functionality with detailed drill down reports