Policy Patrol Email security for Exchange

Policy Patrol Enterprise is a comprehensive email filter for Exchange Server and Lotus Domino, and addresses the pain points of email use: spam, phishing, large attachments, inappropriate use, a need for content-driven automatic disclaimers and signatures, archiving requirements, content security, confidentiality concerns, reputation and brand protection, and prevention of legal issues involving email.
The product is easy to install and configure, and its powerful rules wizard allows you to create customized user-based rules by specifying conditions, exceptions and actions. Policy Patrol currently filters emails for more than 350,000 users worldwide and is used by organizations such as Nissan, Lotto, and Daewoo.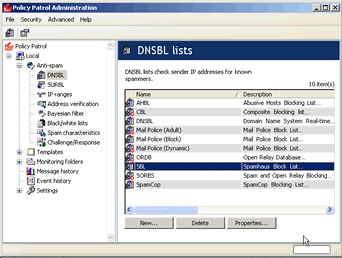 The Policy Patrol Enterprise Edition cost-effectively packages all the capabilities of Policy Patrol Spam Filter, Archiver, Zip and Disclaimers. These components are also available in standalone modules.
Policy Patrol Enterprise includes advanced content security and increased email filtering capabilities not available when you purchase single components.