Outlook Addins


Exchange Addins

SpamAid for Microsoft Outlook

SpamAid 4.0 is an easy-to-use Microsoft Outlook® add-on designed to provide an advanced protection against spam and unsolicited emails. The program uses Bayesian filtering technology that identifies about 98% of incoming spam messages. SpamAid seamlessly integrates into the Microsoft Outlook workspace, scanning and quarantining away junk emails. Caught spam is placed in a special 'Spam' folder under your inbox if you ever want to review it later.
If you are looking for reliable, lightweight and inexpensive anti-spam solution, download the 30-day trial version and see for yourself.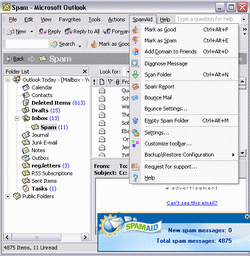 SpamAid is priced competitively at only $29 for a single user license. We provide flexible discount program for volume purchase orders. See Order section for more information. If you happen to have a problem or a question, free support is always available.