Spam Reader for Outlook

Spam Reader 2.6 is a powerful Outlook spam filtering add-on combining ease-of-use and a high degree of protection against unsolicited emails. The software uses the most reliable approach to spam filtering – Bayesian algorithm based on statistical analysis, capable to be adjusted to user's needs and detect up to 98% of spam messages. Spam Reader automatically scans all incoming mails and sends detected spam messages to the special folder for further review.
Additional spam filtering features such as automatically updated with every new recipient White List, possibility to add a whole domain address to Black List and using custom keywords or phrases guarantee highly effective anti-spam protection and a negligible percentage of false positives.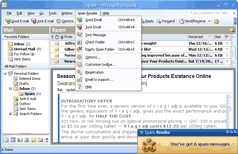 Spam Reader is easily integrated into Microsoft Outlook and needs no additional adjustments. It starts working immediately after the installation. The program supports Exchange, POP3, IMAP, and HTTP mail accounts, works with Microsoft Outlook 2000, XP, 2003, and 2007.
Download the 30-day evaluation version of spam filter for Outlook and see for yourself. Our support will provide you with any information related to the installation and using the program.