MyFax with Outlook Fax Plugin

MyFax is an award-winning Internet fax service that lets you send and receive faxes using email, the web or handheld device.
With MyFax you get up to 300 faxed pages per month for $10, without the need for extra hardware or software. You can use Internet Explorer or Firefox and access everything you need online with MyFaxCentral, or just send and receive faxes through email using Microsoft Outlook.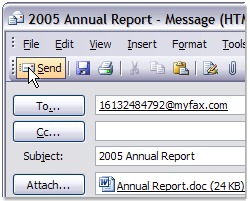 MyFax eliminates fax machines, fax servers and everything that goes with them, like supplies, dedicated lines and long distance charges. No more busy signals, no more waiting. And no more paper.
MyFax is the ideal online faxing service for home users and business users ranging from small offices to large corporations.