Duplicate Email Remover for Microsoft Outlook

Removing Outlook duplicated emails easily with Duplicates Email Remover
Do you have duplicate emails that are spread out among Outlook folders of PST file? Manually checking for Outlook duplicates and deleting them can be rather tedious and take you a lot of time. Try then the Duplicate Email Remover for Outlook.
Duplicate Email Remover is a powerful and flexible add-in for Microsoft Outlook 2007, 2003, 2002 (XP), and 2000 for finding and removing duplicated mail messages in Outlook folders. It searches across all the Outlook folders that you select, looking for and eliminating duplicates of that email. The found duplicate emails can be marked, removed, copied or moved to any folder you choose.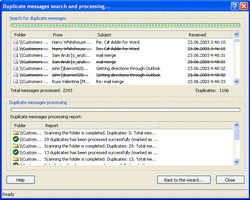 The Duplicate Email Remover for MS Outlook can save you many hours of tedious and tiresome work. Just set it running and it will identify potential duplicate emails, then you can delete them yourself if you wish, or let The Duplicate Email Remover verify and delete the duplicates.
Duplicate Email Remover processes both email messages and posts in mail-type Microsoft Outlook folders. You can use Duplicate Email Remover to find duplicate emails in one Outlook folder or various folders.