Duplicate File Cleaner

Professional Grade Duplicate File Toolkit For You!
Mainly, duplicate files cause the waste of disk space. They cover up hard disks, slow down speed, and cost you more on backup. Duplicate File Cleaner can find out and delete duplicate files in your computer very effectively to release your disk space and increase your computer speed!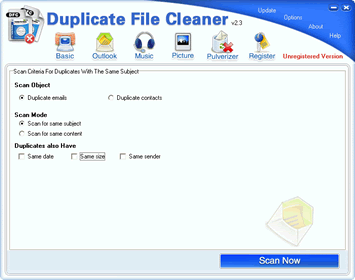 Though Duplicate File Cleaner is powerful to find out and clean most of duplicate files, it is not the ultimate tool to do everything you need. When you need to do more with Duplicate File Cleaner, just submit your requests to us. Duplicate File Cleaner will be the better solution for duplicate file searching and cleaning by providing both the powerful toolkits and on-demand services. That is to say, when you are using Duplicate File Cleaner, you are not only having the handy toolkits but also the great services from our professionals.