Outlook Addins


Exchange Addins


Response Templates for Microsoft Outlook (works with Microsoft Outlook 2003, 2007, 2010) is an intuitive addin that allows you to create and store email templates used for replying to frequently repeated email questions with a single click. Using an easy to retrieve folder storage system built into Microsoft Outlook, Response Templates enables you to easily find and insert the items you need (including text snippets, sentences, paragraphs, URLs, attachments, etc.) into your emails.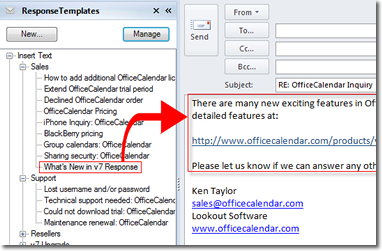 Response Templates transforms your Microsoft Outlook Email with an intuitive set of features:
Works directly inside Microsoft Outlook 2003, 2007 and/or 2010 (not an external application) so that you can Reply, Forward or Create a new email messages with the click of a button.
Create "Insert Text" templates that include formatted text, hyperlinks, attachments, etc.
Create list of organized website hyperlink URLs to insert anywhere in an Outlook email message.
Create a list of attachments (documents, images, and other files) to insert anywhere into an Outlook email message.
Create HTML email templates using Outlook Message File format for new email messages.
Easy to use slide-out/collapsible email template panel built directly into the Microsoft Outlook Message Window with one-click expand and collapse.
Related articles and resources for sharing Outlook