Outlook Addins


Exchange Addins



Free trial
(Online, no download)
Keeping track of your day just got easier with the WebOffice Online Calendar. Organize your business and personal schedules in one secure location. Keep everyone informed about upcoming meetings, track key milestones, and share critical event details.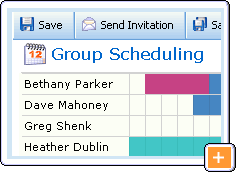 Synchronize your calendar with Microsoft Outlook® or your PDA, and keep on top of your day - from the office, on the road, or wherever you need to work.
Simplify scheduling group meetings and event for your entire organization. See who is available - instantly; even schedule your conference room and other resources. Secure permissions let you limit who can view a scheduled meeting on a group calendar.
Set recurring meetings for daily, weekly, or monthly events. The appointment automatically appears on the invitee's calendars and helps avoid scheduling conflicts.
Securely share your calendar and grant permissions to specific members and allow others to view and administer your schedule, while maintaining the privacy of your personal appointments.
Your schedule can be easily synchronized with your Palm® handheld device or Microsoft® Outlook, allowing you to take your calendar with you wherever you go.
Keep a single, online calendar with both your business and personal schedules. Your personal calendar events are visible only to you - even when you share your calendar with your team.
Your Online Calendar is always available - on demand, anywhere and any time.