Outlook Addins


Exchange Addins



Download free trial
(3.96MB)
OfficeCalendar is a computer software program that is an alternative to Microsoft Exchange Server. OfficeCalendar is Outlook plugin that enables the sharing Microsoft Outlook calendar, contact, and task information with other Microsoft Outlook users on a computer network.
Outlook calendar sharing and group scheduling easy and affordable with OfficeCalendar because it does not require Microsoft's Exchange Server, which is considered too expensive and too complicated for small businesses.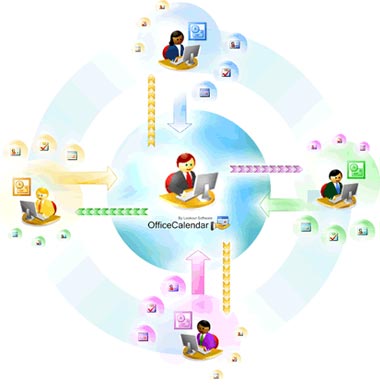 OfficeCalendar offers numerous features and benefits to Microsoft Outlook users. Here are just a few::
Easily share Microsoft Outlook calendar, contact, and task information with your co-workers
Create Microsoft Outlook group calendars to facilitate group scheduling
Hide your private appointments and contacts with OfficeCalendar's shared calendar privacy
Use OfficeCalendar offline and/or synchronize over the Internet
Synchronize PDA's with your personal calendar, contacts, and task
Comprehensive security lets you control who shares whose Outlook calendar, contact, and task information
NEW! Access your Outlook Calendars and your shared Outlook calendars on the web with OfficeCalendar Online
Web access to your Outlook calendars is convenient from anywhere or anytime with OfficeCalendar Online. This valuable feature is available to users subscribed to the OfficeCalendar Premium Maintenance and Upgrade Protection Plan, and allows you to see your personal and shared Outlook calendars just as your would from your own copy of Microsoft Outlook. OfficeCalendar sharing security applies to OfficeCalendar Online as well, ensuring that you can only see online what you can see in Microsoft Outlook.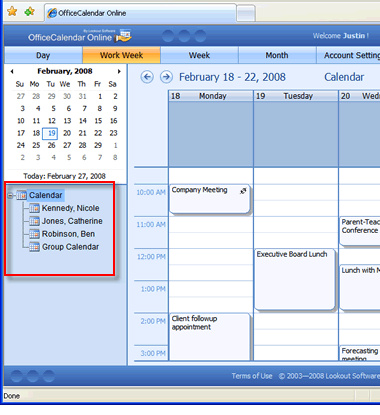 Related articles and resources for sharing Outlook